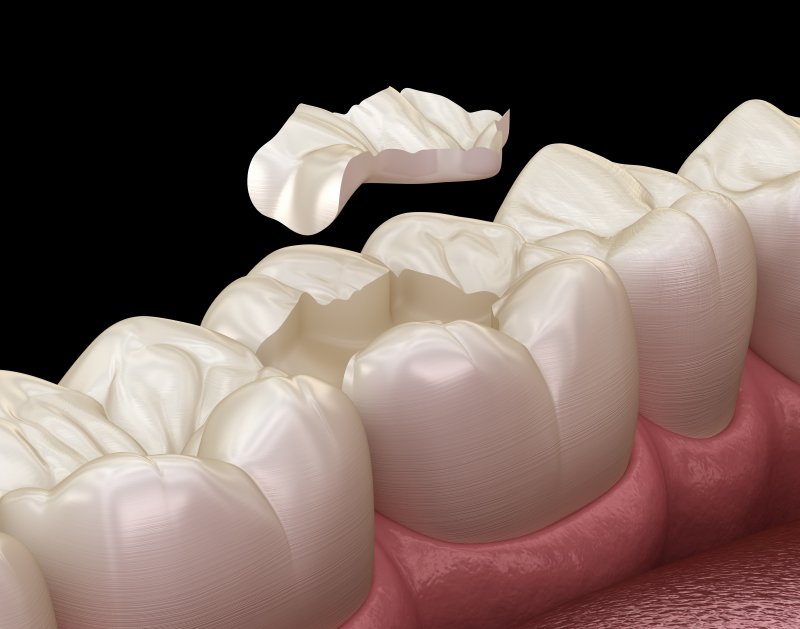 Need a customized restoration for your vulnerable tooth but want to avoid silver or gold amalgam? You're not alone. The spotlights caused by these traditional crowns and bridges are not only harmful to your overall health but also embarrassing for self-conscious individuals. Before undergoing necessary treatment, learn from a holistic dentist why biomimetic dentistry might be right for you.
What is Biomimetic Dentistry?
Biomimetic dentistry is the art of using metal-free materials to "mimic nature." Not only do the restorations created need to be free of any metals, but they must also minimize the amount of tooth structure removal required.
Because of this, many biomimetic dentists opt for inlays or onlays instead of full dental crowns. These customized restorations reduce the amount of structure removed while also ensuring a tighter seal via bonding.
Biomimetic dentistry uses naturally colored materials such as zirconia, porcelain, and ceramic to resemble the look of regular tooth enamel. And they rely on bonding instead of cement to hold restorations in place. This allows for a strong and durable seal, preventing bacteria from entering the infected area in the future.
Why Is It Important to See a Biomimetic Dentist?
A biomimetic dentist cares about the health of your smile as well as maintaining as much of your natural tooth structure as possible and ensuring the natural appearance and strength of your teeth. Although regular dentists may use tooth-colored materials, it is unlikely they are as concerned about keeping most of your tooth structure in the process.
Even the most carefully crafted restorations cannot do what traditional tooth enamel can, which is why keeping a majority of your smile's original tooth structures is essential.
Also, a skilled holistic or biomimetic dentist undergoes extensive training to provide this type of service. From being able to properly isolate the vulnerable tooth to keep saliva at bay to performing the correct application of bonding is something that requires broad experience.
With the help of CAD/CAM technology, a biomimetic dentist can also create the restoration in-house, making it easier for you to undergo treatment in less time and walk away with a healthier, complete smile.
Naturally, the health of your teeth is most important, but you can expect the results you achieve with biomimetic dentistry to improve the aesthetics of your smile as well. Using natural materials that blend in with your existing tooth enamel, you won't need to worry about feeling self-conscious anymore.
About the Author
Dr. Udoka Holinbeck is a holistic dentist who believes in the importance of caring not only for the mouth but the body as well. At Bionica Dental Wellness, she and her team remain committed to furthering their knowledge and skillsets to provide patients with the most updated and advanced techniques and technologies available. Using biomimetic dentistry, she is equipped to eliminate any metals inside the mouth and place them with amalgam-free options that blend in and maintain more of the natural tooth structure. To learn more, visit our website or call (262) 337-9745 to schedule an appointment.