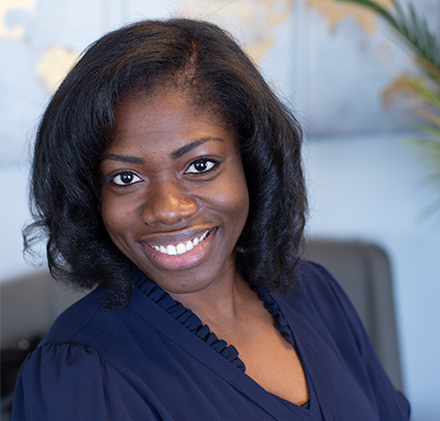 Seeing a dentist who believes in taking the time to pursue professional continuing education opportunities is important. Why? Because it not only allows them to further their knowledge and skillset, but it also allows them to provide updated technologies and techniques that benefit you, the patient. Dr. Udoka Holinbeck is a true go-getter in this sense, and it is evident through her most recent accomplishment – becoming an AGD Fellowship dentist. What does this mean and why is it important? Read to learn how she achieved this designation and how it will allow her to help more patients like you.
What Does it Mean to Be an AGD Fellow?
Each year, the Academy of General Dentistry (AGD) recognizes and awards dental professionals throughout the United States and Canada with fellowships. These individuals are committed to improving and furthering their knowledge and skills in the field of dentistry, ensuring they continue to provide first-rate dental care to those in need.
As a highly-qualified and professional holistic dentist in Delafield, Dr. Holinbeck recently stated, "Having spent the last almost decade working towards this fellowship award, I am proud to have received the designation this year."
In her pursuit of receiving an AGD Fellowship, she invested more than 500 hundred hours of approved continuing education courses and passed a rigorous, comprehensive exam. What makes this so impressive is that only an estimated 6% of general dentists in the United States and Canada have achieved Fellowship status with AGD.
How Does this Designation Benefit You?
As pleased as Dr. Holinbeck is to receive this designation, she views it as a way to improve patient smiles and use the most up-to-date techniques and best practices when it comes to providing outstanding oral healthcare.
As the patient, you will not only be cared for by a dentist who believes in improving your overall health and wellbeing, but you will also have the advantage of receiving treatment by a professional who has shown dedication to undergoing the necessary training and education to understand the latest advancements in the field of dentistry.
As an AGD Fellow, Dr. Holinbeck has exceeded the industry requirements of a general dentist and shown she is committed to providing nothing but the very best in advanced dental care. Among the 17,000 dental professionals who are part of this elite community (AGD Fellows), this designation serves as a symbol of her dedication to the field and commitment to her patients living in Delafield and its surrounding communities.
About the Author
Dr. Udoka Holinbeck was born in Nigeria and raised in North Carolina. Moving to Wisconsin where she now calls home, she is proud to serve the residents of Delafield and its surrounding communities. She earned her Doctor of Dental Surgery degree from the University of Southern California in Los Angeles and continues to pursue continuing education opportunities, dedicating hundreds of hours to various courses. As a holistic dentist, she believes in the importance of caring not only for the mouth but the body as well and remains committed to furthering her knowledge and skillsets to provide her patients with the most updated and advanced techniques and technologies available. To find out more about her accomplishments and continued pursuit of professional growth, visit our website or call (262) 337-9745.