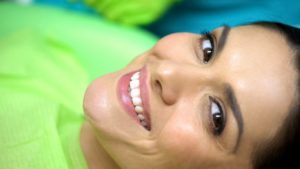 Since October is National Dental Hygiene Month, it's important to take the time to focus on good oral health and how it can be obtained. Most people believe that by simply brushing and flossing, they're doing enough to keep decay and disease away. While this is true to an extent, there are certain tricks and techniques that are beneficial when it comes to cleaning your mouth safely and effectively. To find out what they are, here are 5 healthy oral tips to improve your oral health.

Brushing Your Teeth
You've heard your dentist tell you that you need to brush your teeth twice a day – in the morning and at night. If you're being honest, it's likely you sometimes skip that nighttime brushing. From now on, make sure you take the time to brush at night, as this is considered even more important than the time you spend brushing in the morning. Why? Overnight, harmful bacteria feed off the food you consumed throughout the day, releasing toxins that negatively affect your entire body. By cleaning your mouth before you go to bed, you reduce the risk of bacteria building that cause tooth decay, gum disease, heart disease, and other chronic illnesses.
Flossing In-Between Your Teeth
Since your toothbrush can't reach between your teeth to remove harmful bacteria, flossing is just as important as brushing. It is important that you floss correctly to prevent damaging your teeth and gums. In a matter of minutes, you can feel better about how your mouth feels simply because you took this important and necessary step for better oral hygiene.
Choosing the Right Mouthwash
Although often forgotten, this useful tip is one of the best ways to give your mouth a complete and total cleaning. After brushing and flossing, rinsing with mouthwash is a great way to flush out any remaining debris and food particles. If you're looking for a mouthwash with all natural ingredients, no chemicals and the ability to leave you feeling clean and healthy, you'll really enjoy this Mineralizing Mouthwash!
Clean Your Tongue
Your tongue is a part of your mouth that probably gets overlooked while going through your oral hygiene routine; however, it is imperative that you clean it because of the film that develops and bacteria that lives on the surface. The best way to clean your tongue is to either use your toothbrush or a dedicated tongue scraper.
Take Care of Your Lips
When cracked and dry, your lips can become infected and develop sores. Lip infections become a source of bacteria that can affect the tissue inside your mouth, so make sure to keep your lips moist and hydrated. Not only will this improve your appearance, but it will keep infection away, creating a healthier, more beautiful smile.
By following these 5 tips to proper oral hygiene, you can ensure your teeth and gums remain in great shape all year round. If you're unsure about your technique, don't be afraid to reach out to your dentist for help.
About the Author
Dr. Udoka Holinbeck was born in Nigeria and raised in North Carolina. Moving to Wisconsin where she now calls home, she is proud to serve the residents of Delafield and its surrounding communities. She earned her Doctor of Dental Surgery degree from the University of Southern California in Los Angeles and continues to pursue continuing education opportunities, dedicating hundreds of hours to various courses. As a holistic dentist, she believes in the importance of caring not only for the mouth but the body as well, which is why her office offers metal-free dental restorations, ozone therapy, safe amalgam removal, and even CEREC dental crown placement. To learn more about how we can help you, visit our website or call (262) 337-9745.